USS TUCSON
USS TUCSON to carry El Charro fare under the sea!
By Eric Van Meter - Inside Tucson Business

When Duane Baker eats at El Charro this September, he'll be 400 feet below sea level.

No, the Old Pueblo isn't sinking into the sea.

But the USS Tucson will when it's deployed next September. When the fast-attack submarine takes the plunge, so will the "El Charro Down Under," the official name of the ship's galley and yet another indication that when it comes to fun and fine food for tourists, Tucson does more than stay afloat.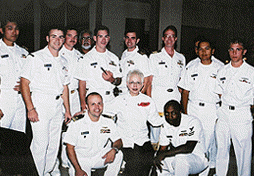 According to Gloria Parnes, chairperson of the USS Tucson Commission, the story is this: Commander Duane M. Baker Jr. of the USS Tucson visited our shores last April, and the Commission crew took the commander and company to El Charro Café, 311 N. Court Ave., for an official "initiation to some fine Mexican food."

At half the size of a residential kitchen and stocking almost nothing buy canned and frozen food, the El Charro Down Under will be a far cry from its namesakes, but Ray Flores, an owner of El Charro Café, said the galley christening is a "tremendous honor."

Not all Tucson tourists can name parts of a U.S. ship as personal souvenirs, but that hasn't stopped Tucson visitors from pouring into El Charro year after year.

Ray and Carlotta Flores bill their 80-year-old restaurant as the oldest family-owned Mexican restaurant in the United States, one that owes about 50 percent of its business to tourists who have been facing an hour wait every night during Tucson's busy winter / spring season to sample the café's fare, which Mr. Flores says is "adapted to the taste of anybody throughout the world."

"We're heavy into veggies, soups, some beef, chicken, fish. Most People think that Mexican restaurants feature a lot of meat, and really, it isn't a lot of meat; it's mostly vegetables, but we just don't stop and think about that," Mr. Flores said.

Right now, the restaurant business in Tucson, and all of Arizona is "hopping," according to Mr. Flores, who is also president of the Arizona Restaurants Association. Even without the flood of Colorado Rockies fans, most restaurants have noticed almost no difference because of so much other activity, Mr. Flores said.

As temperatures climb to the 90s, Tucson's restaurant business will fall off, said Mr. Flores. But next year, every, hungry snowbirds can count on Tucson for unique places to light.